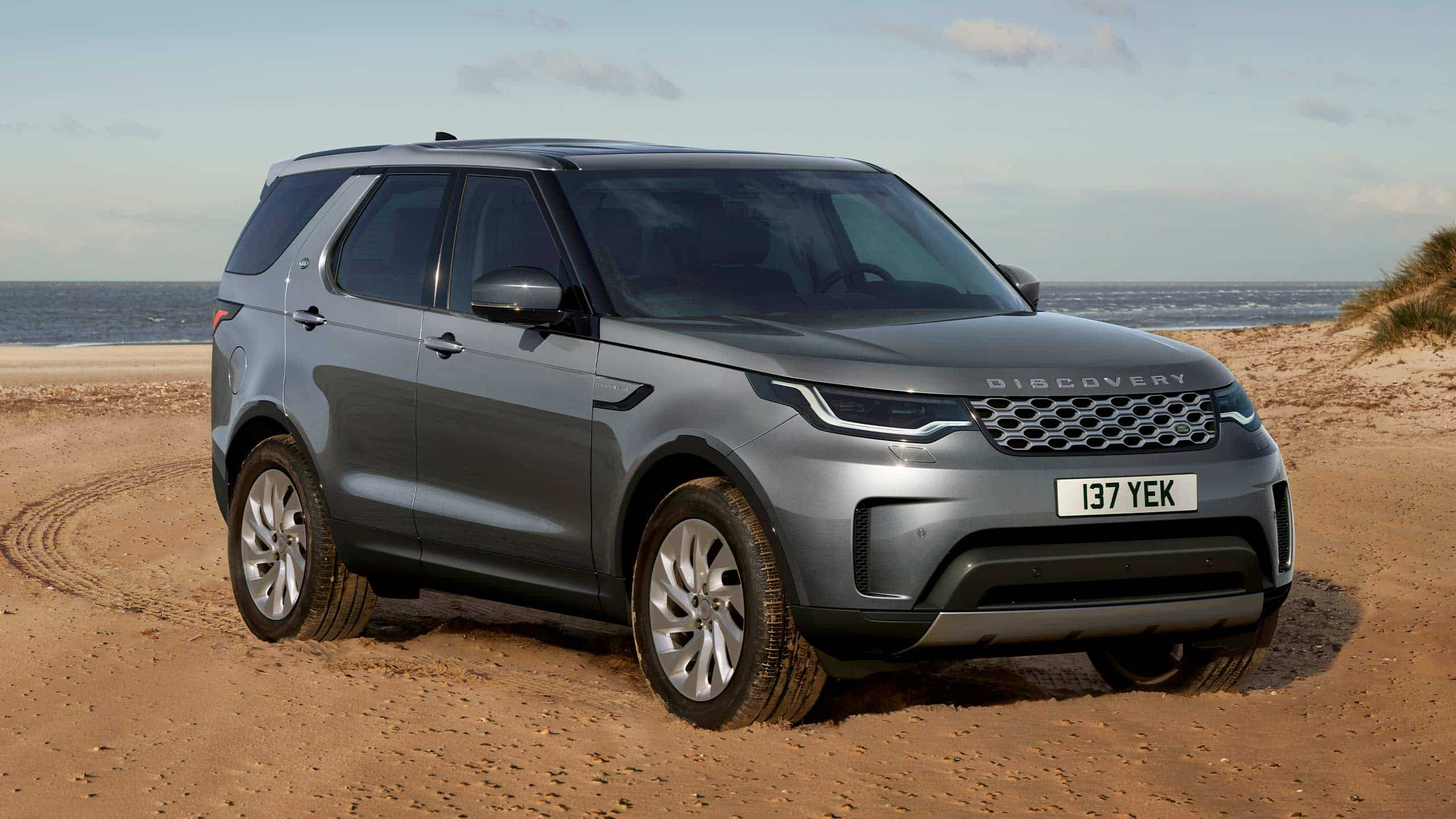 The Land Rover Discovery is a quantum leap forward in SUV Design. A radical and sharply focused approach to embodying Land Rover's vision of the most versatile and capable SUV.
7.29 %
APR PER MONTH FOR 48 MONTHS¡
FINANCE
¡Lease a new (in stock) 2023 Discovery S (P300) with an annual percentage rate ("APR") of 7.29% for up to 48 months for qualified retail lessees, on approved credit (OAC) from Land Rover Canada Financial Services. Not all buyers will qualify for the lowest APR payment. For example, lease a vehicle with a Total Selling Price of $75,250 which Includes MSRP, Freight and PDI, admin fee, AC Charge, Tire levy, registration fees associated with PPSA/RDPRM and lender administration fee (including government fees and third-party registering agent fees), the estimated Luxury Tax Surcharge- where applicable, your retailer may apply based on the final negotiated vehicle price), and other charges, all of which may vary by province and/or retailer) at 7.29% APR for 48 months with $6,999 down payment or equivalent trade-in and after $0 Land Rover Credit and/or Retailer Discount applied: monthly payment is $978, total lease obligation is $53,939, optional buyout is $36,638. Total of 48 monthly payments required. Some conditions apply and a mileage restriction of 64,000km over 48 months applies. A charge of $25 cents per km over mileage restriction applies, plus applicable taxes.), licence, insurance, and all applicable taxes are extra and due upon signing. Down payment and first payment due at delivery. Offers expire October 2, 2023. Special order may be required. Offer may be cancelled at any time without notice. Vehicle may not be exactly as shown. Retailers are free to set their own prices. Visit your Land Rover Authorized Retailer for full details. © 2023 Jaguar Land Rover Canada ULC
Your retailer may charge a Luxury Tax Surcharge on vehicles priced above the $100,000 threshold under the Government of Canada's Select Luxury Items Tax Act. The actual value of the Luxury Tax Surcharge will be calculated based on the taxable amount of the vehicle (before taxes), and will represent the lesser of: (i) 10% of the taxable amount of the vehicle; or (ii) 20% of the taxable amount of the vehicle that exceeds the $100,000 threshold. Please contact your Retailer or visit the Government of Canada's website for full terms and conditions: https://www.canada.ca/en/revenue-agency/services/forms-publications/publications/ltn2/subject-vehicles-under-select-luxury-items-tax-act.html.
5.99 %
FINANCE
**Finance a new (in stock) 2023 Discovery S (P300) with an annual percentage rate ("APR") of 5.99% for up to 72 months for qualified retail buyers, on approved credit (OAC) from Land Rover Canada Financial Services. Not all buyers will qualify for the lowest APR. For example, finance a 2023 Discovery S (P300) with a Total Selling Price of $75,250 which Includes MSRP, Freight and PDI, admin fee, AC Charge, Tire levy, lien registration fees (including government fees and third-party registering agent fees), the estimated Luxury Tax Surcharge- where applicable, your retailer may apply based on the final negotiated vehicle price), and other charges, all of which may vary by province and/or retailer) at 5.99% APR for 72 months with $6,999 down payment or equivalent trade-in and after $436 Land Rover Credit and/or Retailer Discount applied: monthly payment is $1,118. Cost of borrowing is $12,680, for a total obligation of $87,494. Total of 72 monthly payments required. License, insurance, and all applicable taxes are extra and due upon signing. Down payment is due at delivery. Offers expire October 2, 2023. Offer may be cancelled at any time without notice. Vehicle may not be exactly as shown. Retailers are free to set their own prices. Visit your Land Rover Authorized Retailer for full details. © 2023 Jaguar Land Rover Canada ULC
Your retailer may charge a Luxury Tax Surcharge on vehicles priced above the $100,000 threshold under the Government of Canada's Select Luxury Items Tax Act. The actual value of the Luxury Tax Surcharge will be calculated based on the taxable amount of the vehicle (before taxes), and will represent the lesser of: (i) 10% of the taxable amount of the vehicle; or (ii) 20% of the taxable amount of the vehicle that exceeds the $100,000 threshold. Please contact your dealer or visit the Government of Canada's website for full terms and conditions: https://www.canada.ca/en/revenue-agency/services/forms-publications/publications/ltn2/subject-vehicles-under-select-luxury-items-tax-act.html